Hi,
In my forums, I have a private forum that can only be accessed by people belonging to a specific group. Right now to access it they have to write more than X posts, I'm using the "promotion" feature of mybb for that.
I would like to grant access to this private forum to new users automatically, as soon as they register. I have a list of subscribers elsewhere and would like to offer them this access as a gift.
But I can't do it right now because the only way to do it would be for them to write X posts OR for me to grant them access from the admin panel. This is not doable as this would just be too much work (hundreds of accounts to upgrade).
Is it possible to add a "PROMO CODE" feature in the registration page in the form of text box?
Something like this: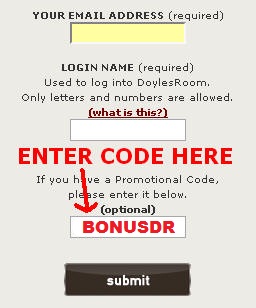 We would manage the promotion codes from the admin panel, and we would say for example:
* Promocode "SUPERGIFT555" used to assign the new user to Group X.
* Promocode "YEAH2009" used to assign the new user to Group Y.
etc...
Thanks!
HFerradj