Hello,
I need help in adding more info in the "About Page"
By default there is only 3 additional information.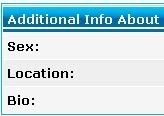 Sex:
Location:
Bio:
I want to edit it an add more like "Hobby" etc.
can someone in here tell me how to do?
Where I should go and what files I should be editing?
Thanks!